Underfloor Heating Installations
Greenside Plumbing and Heating offer a complete underfloor heating installation service, covering Hexham, Ryton, Corbridge, Ponteland, Newcastle and Gateshead.
Looking for a Heating Engineer to install Underfloor Heating in Hexham, Ryton, Corbridge, Ponteland, Newcastle, or Gateshead? Look no further than Greenside Plumbing and Heating. We have a team of experienced Heating Engineers who are all Gas Safe registered and can install Underfloor Heating to the highest standards. We offer a free no obligation quote so please contact us today to see how we can help you.
There are many different types of underfloor heating systems available on the market today, so it is important to choose the right one for your home. Greenside Plumbing and Heating can advise you on the best type of system for your property and install it quickly and efficiently. Underfloor Heating is a great way to save money on your energy bills as it is more efficient than traditional radiators. It also provides a more even heat throughout your property and can be controlled by thermostats, so you can have the perfect temperature all year round.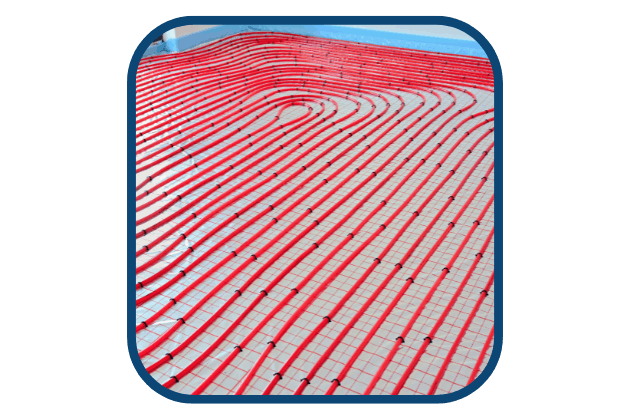 Types of Underfloor Heating
Hydronic underfloor heating
Underfloor heating systems with hydronic technology deliver a soft, warm, and constant heat. Warm water is circulated through a closed circuit of complicated plumbing beneath the floor surface, which is done by a sophisticated design.

Radiant underfloor heating
Thermal radiation is used to generate heat in radiant floor heating systems. They offer indirect, diffused heat that radiates from the floor up by heating the floor rather than the surrounding air. This heat is absorbed by the things in the immediate vicinity, which then help to warm the entire room.
Solar-powered underfloor heating

Solar PV panels turn solar energy into electricity, which can be used to power household appliances and this can include solar underfloor heating. To combine floor heating and mains pressure hot water, a solar thermal store cylinder can be employed. The cylinders are made to function with solar panels and a boiler, but they may easily be modified to work with other heat sources such stoves, back boilers, and heat pumps.

Benefits of Underfloor Heating
Underfloor heating is a great way to keep your home warm and toasty without having to turn up the heat
Underfloor heating is more energy-efficient than traditional heating methods, which means you'll save money on your energy bills
Underfloor heating can also improve the air quality in your home by trapping dust and dirt particles
It's a great option for people with allergies or asthma because it helps to keep the air clean and free of allergens
Underfloor heating is perfect for families with small children or pets - they won't have to worry about them getting too cold or too hot

Contact Us Today
If you are interested in having Underfloor Heating installed in your home, please contact Greenside Plumbing and Heating today at 07506544773 or drop us a note on our online contact form.
We offer a free no-obligation quote and our Heating Engineers are always on hand to answer any questions you may have.